Original picture and character belong to Ink Tank
Model 1 Belongs to Ben 10 fan 5yl and Ben 10 planets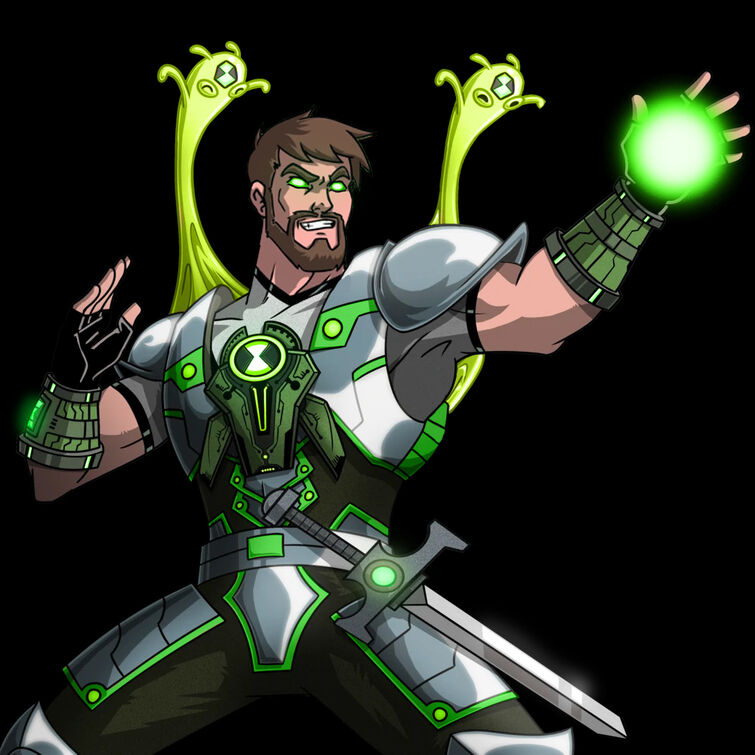 Tier: Low Multiversal without transformations Varies, up to Boundless with transformations. Omniversal with some modes and functions.
Name: Composite Ben, Benjamin Kirby Tennyson, also known as "Ben 10", "Ben Prime", "Young Master Tennyson", "The Biggest Hero in the World", "The Coming Storm", "Destroyer of the universe", "Savior of the universe", "Omnipotent Monster", Ben 10,000, Future Ben, Buzzkill, Jerk from the Future. Ben Infinity
Origin: Ben Ten, The Ink Tank
Gender: Male
Age: 36( he is immortal.)
Classification: 1/2 Anodite, 1/2 Human , Scientist, Superhero
Powers and Abilities: Superhuman Physical Characteristics, Mana Manipulation, master in magic, even better in magic that any other gwen except composite gwen,( but can still beat her with forms and full anodite mode With Ascalon Armor he has: Creation, Destruction. Energy Projection, energy manipulation, Forcefield Creation, Light Manipulation, Power Nullification, Power Absorption, Power duplication, Power copying, Reality Warping, Nigh-Omnipotence, Resistance to Mind Control, With the Infinitrix he has: Transformation, Power Mimicry and Fusion, ultimate, hyper, etc.., omni-kix, omni-naught, parasite forms, creation mode, Magic mode, EVO Nanite mode, Ecto-Energy mode, skurd mode, Infinity Mode,omni turbo mode and Infinite+ more powers, features, functions and modes.
Attack Potency: Low Multiversal level without transformations (Has the power of Ascalon which has the powers of dagon) Varies, up to boundless/ tier 0 level with transformations (Can stop a big bang, can obtain the power of aliens such as alien x who could survive and cause omniversal destruction. he has more powerful aliens than alien x. Servantis stated that Ben could one day wipe everything out of existence in this form. Effortlessly recreated a destroyed a universe with a wave of his hand). Can transform into any and everything including omnipotent forms and meme characters
Speed: Athletic Human travel speed At least Massively FTL combat speed and reactions (Keeps up with villains like Vilgax), FTL travel speed with the Time Cycles( which are kept in a infinite pocket dimension, which stores any and evrything.) (Much faster than and blitz Time Beast, which Rook stated to moved faster than light) likely higher when fueled by Time Beast eggs (Can travel into the timestream, which is a point in space-time where all past, present and future timelines meet and intersect. Can move in a massive blank void before the "Beginning of Time" itself.) Varies, up to Massively FTL+ with transformations and even up to omnipresence with some forms (As fast as Celestialsapiens, who can grow to the size of galaxies and cross interplanetary distances with ease)
Lifting Strength: Near Infinite without transformations Infinite+ with transformations
Striking Strength: Low multivers level without transformations Varies, up to Boundless level with transformations
Durability: Multiversal level without transformations Varies, up to Boundless level with transformations
Stamina: Near Infinite thanks to the Infinitrix . Easily fended off several skilled assailants with no aid from his powersRange Infinite+ stamina with forms: Standard melee range, Infinite range with DNA Scanning, Infinite with DNA Recombination, Low multiversal with Ascalon with dagon's power, Multiversal with ClockWork, Boundles with many other transformations
Standard Equipment: Infinitrix, Skurd (A Slimebiot is attached to the Omnitrix), and another slimebiote( give a name in the replys) they live in a pocket dimension in the infinitix, Glitch Ben has his glitch galvanicmechamorph which has all powers of the infinitix, he also lives in a pocket dimension in the infinitix , Ascalon and Infinite+ other equipment, items, powers, and any and everything else stored in infinite pocket omniverse dimension.
Intelligence: Super Genius, created the Infinitrix that allows the user to perform transformation,fusions,Ultimates and shapeshifting. With transformations he is omniscient.
Weaknesses:
None
Notable Attacks/Techniques/Functions:
Magic: Ben has mastered his anodite spark and has become a master socerer .
Master Control: Ben has access to the Omnitrix's Master Code, allowing him to remain transformed indefinitely and transform into any alien in the Omnitrix he is aware of with a simple thought.
Capture/Scan Mode: When the Omnitrix detects new DNA not present in its records, it can copy the DNA of the new sample by making direct contact with the alien or by scanning the alien with a visor under the watch's face.

Self-Destruct Mode: Ben can order the Infinitrix to destroy itself with the voice command, "Infinitrix Self Destruct in (time): Command code: 000 - Destruct 0". After activation, the Infiitrix charges energy while counting down until it explodes, with the power of the explosion being proportionate to the amount of time spent charging. The Infinitrix can gather enough energy in an infitesimal of a second to destroy a multiverse, but can unleash a ripple of omni-energy that can destroy the entire Omniverse if allowed to charge for a few seconds. The blast can not kill Ben though, even if the infinitix sulfdestruct Ben can still use it's powers, he can also command it to rebuild itself.
DNA Manipulation: In addition to allowing Ben to take up the form of other aliens, the Omnitrix can alter the biological makeup of others and repair damaged genetic structures. Ben used this function to cure the severe genetic damage caused by Xenocyte parasitism, removing the parasite in the process. He later applied the traits of numerous aliens onto the Highbreed in order to remedy the genetic stagnation they caused through their own inbreeding. Dna Manipulation is infinite and can even transform ben into form without dna.

Creation Mode: Aside from transforming ben into forms that exist in the omniverse, he can also creat any form with but his imagination, there are no limits to this. It can also be used to manipulate reality on any level with no limit. can also create items such as Infinity Stones, Grean Lantern rings and Mjonir.
There are infinite+ functions, modes, etc...
Have any questions, You can ask in the comments.
Trivia:
Can transform and use powers form other franchises such as Marvel, DC, Dragon Ball and every other franchise.

Skurd and the other Slimebiote can break the fourth wall. Ben becomes aware of the real world when transformed into forms that can sense it

He has a Form that transcends The writer, Author and artist, It can also manipulate the real world, although ben is unaware that this form exists. This form is even more powerful than alien X and is even Omnipotent.

He has discovered 55,000 transformations so far.

He has also learned the modes and functions of the Omnitrix.

Ben's potential is infinte as he has infinte transformations

The Infinitrix and ben are one, It can never be removed from him as it is bound to his soul. Ben can also use the infinitrix from his own body without using the device.

Ben has an Infinite dimensional duplicate of the omniverse inside the Infinitrix.

The Infinitrix can not be copied, broken, duplicated, hacked and there is only one version of it in the entire Omniverse, as Bellicus made it that way.

He can transform into meme characters like Shaggy, Bully Maguire and shrek. He even gets all there powers.

He is in a timeline that is a fusion of justice league, Avengers, DBZ and more. Similar to the enderverse by Enderknight1.

This Ben has fought green lantern and Ben obviously won.

Skurd and the other slimebiote have become more powerful thanks to the infinitix and can now create weapons, tools etc.. from anything including transformation DNA. He also can create anything by using by using creation mode.
Infinitrix
Uses Life and Anti-life essence for transformation

DNA is no longer required

Can transform into non sapient beings while still having genius level intellect

Allows instant transformation

User can transform into Anodite and even into Dagon(of Demon specie)

Can transform into extinct organisms

Different transformations can be made from a single specie;as DNA is no longer Infinitrix base.

Infinitrix uses many modes.

One example is in figure below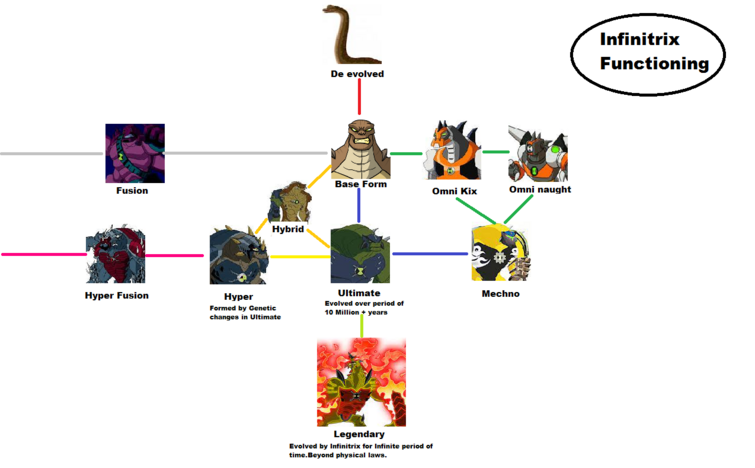 One of the most powerful transformation of Ben ten is of specie TRUE CELESTAILSAPIEN and is only member of this specie

It is hidden from Ben

It is named as ALL X

It is fusion of all celestailsapiens ,tier 0 characters from each franchise including
The One above All MARVEL
The Writer DC
Azathoth Cthulhu Mythos
Above and Beyond Ben Ten
Etc etc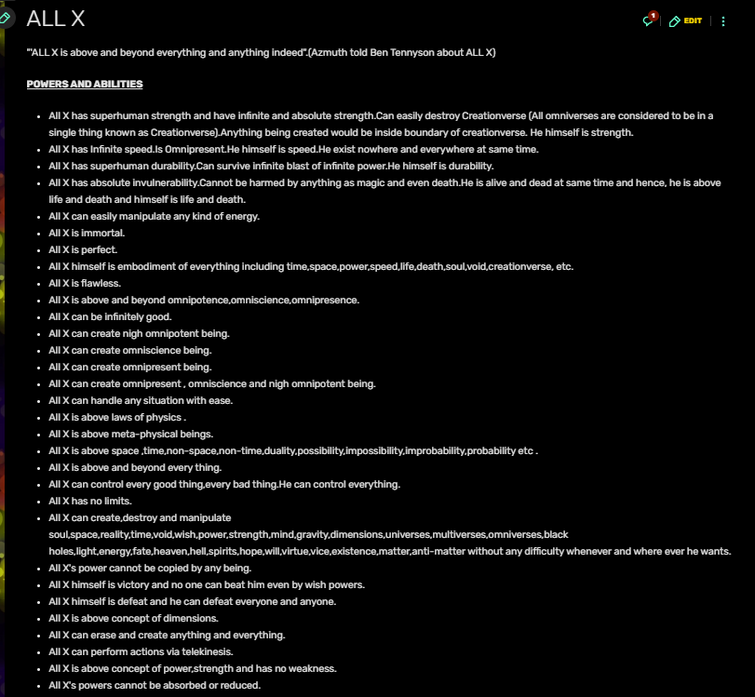 BEN INFINTY SUPREME CHARACTERS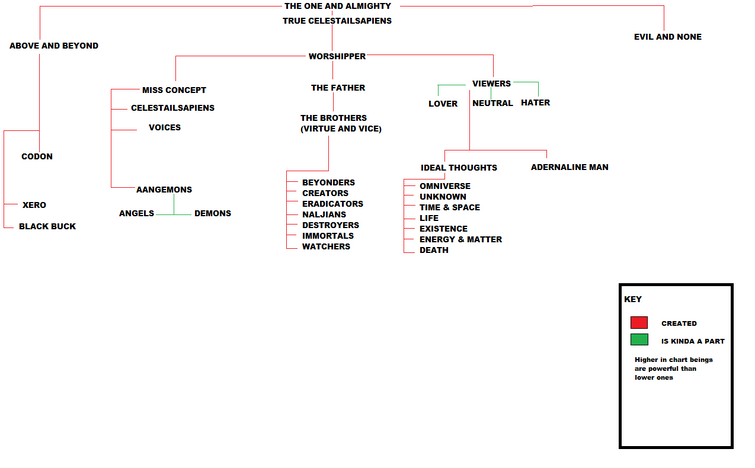 THE ONE AND ALMIGHTY
Creator of Creationverse (All franchises are inside barrier of Creationverse)
This character belongs to all franchises in a way but almost no one is yet aware
Is powerful than Tier 0 character( which are most powerful character of any franchise)
TRUE CELESTAILSAPIEN
ALL X is only member of this specie
Fusion of all Tier 0 characters and Celestailsapien
Thus is out of logic powerful
Tier 0 charcters are weaker than ALL X
Even tier 0 character cannot comprehend powers of ALL X
ABOVE AND BEYOND
Tier 0 character of Ben 10 Franchise
EVIL AND NONE
Counter part of Above and Beyond
WORSHIPER
First Creation
Nigh Omnipotent
Omniscience
Omnipresent
MISS CONCEPT
First Creation by Worshiper
Nigh Omnipotent
THE FATHER
Creator of VIRTUE AND VICE
CELESTAILSAPIENS
Only Starbeard was a Celestailsapien
He divided himself into Infinity to give rise to each specie and everything inside Omniverse
Starbeard we saw today is infinite weak than one that was created
VIEWER
Can recreate and destroy anything within and outside boundaries of Omniverse
They are Lover, Hater,Neutral
Every franchise got there own Viewers
If Lovers are more than Haters in a franchise it gets good name as well as respect from everyone
THE BROTHERS
Embodiment of Virtue and Vice
Created 7 species using Starbeard to manage Omniverse
These species are known as Supreme 7
VOICES
Were created so Starbeard may not divide himself again for Omniverse
CODON
Information of past, present and future of everyone inside Omniverse
IDEAL THOUGHTS
Created by Viewers by performing experiments on Supreme 7
Created 7 characters using powers of his own
These are known as THOUGHT 7
ADERNALINE MAN
Created by viewers to counter Ideal Thoughts
SUPREME 7
THOUGHT 7
AANGEMONS
Created by Starbeard to manage species through out Omniverse
XERO
Manages link between Xettaverse
ANGLES
Half part of Aangemons
DEMONS
Not to be confused with Dagon specie (Dagon's specie is Demon without an "s")
Half part of Aangemons
BLACK BUCK
Is holding fragments of Omniverse in his hands
NOTE
The explanation of above characters is in a particular order of strength and power (Higher characters are powerful than lower ones)
If you want to see who is created by whom see the chart on top
As Above and beyond , Evil and None are mere creations of THE ONE AND ALMIGHTY so are all tier 0 characters and there counter part from each franchise
Somethings might be wrong or completely absent at time so please wait for them...................