5 Years Later is a crossover continuation of the television shows Danny Phantom (Created by Butch Hartman and owned by Nickelodeon) and the Original Ben 10 Saga (Created by Man of Action and owned by Cartoon Network).
It is meant to do justice to the respective franchises as they were mistreated by their network towards the end of their run despite the incredible amount of potential the shows have.
Starting with Chapter 3, the Invader Zim franchise joined the 5YL roster as the third show integrated into the crossover.
Plot Summary
It's been five years since Danny Fenton, retired ghost-fighting superhero, revealed his identity to the world and saved it from destruction. When accidentally thrown into an alternate world while trying to complete his father's work, a new cross-dimensional threat is revealed to Danny, and his old arch-nemesis, Vlad, is somehow connected. Now, he must "Go Ghost" again with the help of that universes' greatest hero, Ben 10, to defeat the threat before he can obtain his mysterious goal.
Production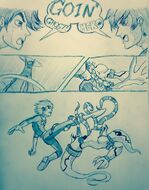 Creation
Back in early 2015, Kuro had done drawing requests free-of-charge on Facebook for publicity. One request was a picture of Ben Tennyson using Ghostfreak to fight Danny Phantom. After its completion, Kuro became fascinated with the idea of Ben and Danny fighting together and began to draw versions of them in a multitude of art styles over the course of 2015.
The more elaborate the illustrations became, the more a story began to develop. Originally, it was scripted as a short, five-chapter comic book. It took place shortly after each series ended, Eon was not involved, and there was little effort to distinguish it from regular fan-fiction. It was around that time that Butch Hartman's first Danny Phantom: 10 Years Later YouTube video was released. This inspired Kuro to develop the story further, and add a significant time-skip to give plenty of room to expand the universes more.
Assembling The Ink Tank
Development
Marketing
Part of 5YL's advertising was the various social media accounts it has and creators' social media accounts who advertise it.
Guide
Trivia
Community content is available under
CC-BY-SA
unless otherwise noted.