Anur Khufos is the home planet of Thep Khufans in the Anur System in the Ben 10 Universe.
Overview
Located in the Anur System, Khufos is mainly a desert planet, being the closest planet to the sun, the planet is very hot, dry, and bright. It is mainly comprised of sand and stone with large deposits of Corrodium. The sun also never sets on this planet, so the Khufans must sleep in sarcophagi.
Landscape
Most part of the planet is a huge desert with huge stone mountains and pillars scattered all over it.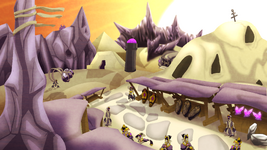 Landmarks
None
Residents
Trivia
TBA