Crawnch is a hero in 5 Years Later. He first appeared in Chapter 2: The Lonely Ghost. He is a Mulgogian from the planet Terradino in the Ben 10 Universe.
Appearance
Crawnch is a tall, strongly-built humanoid alien. He has yellow skin, a black beard, and pale white eyes. He has gills, pointy fish-like ears, and a fish tail-like appendage at the back of his head. He wears a sleeveless plumber suit.
Personality
Crawnch is very stoic, very wise, and only speaks when necessary. His tactical prowess is incredible, but his passion for protecting others sometimes makes him choose more rash decisions. Crawnch is a low-key weapons junkie. He likes to collect firearms from different missions, dismantle them, and rebuild them with his own customizations.
Abilities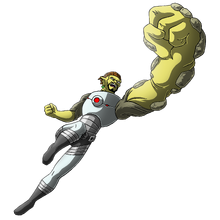 Arm Inflation- He can inflate his arms up to seven times their normal size, increasing his strength.
Underwater Breathing- Crawnch is able to breathe underwater.
Plumber Training- Crawnch has gone through the basic Plumber training regime, and thus has the skills of a plumber.
Technology Handling- Crawnch has the knowledge and skills to handle plumber technology and other weaponry.
Enhanced Reflexes- Crawnch has an incredibly quick reaction speed. This allows him to perceive speeds that would be naked to the human eye.
Equipment
Chimerian Photon Rifle- A plasma weapon designed by the Chimera Sui Generi, the rifle was stolen by Crawnch during an undercover investigation on Vilgaxia by The Orion Squad on their first mission.
Weaknesses
Dehydration- Crawnch can quickly deteriorate in dry environments without his Plumber gear.
History
Before 5 Years Later
Prior to the events of 5 Years Later, Crawnch's childhood was filled with challenges. He grew up on the poorer side of his home planet, where crime ran rampant, but he was always the one to oppose it. He received a lot of scars since childhood, always from protecting others.
He knew he wanted to become a plumber ever since he heard his father, Ez'rah failed to do so, why he failed was never revealed to him, but he most likely chose to stay to protect his family and community, rather than the galaxy. He was a military man at heart and raised Crawnch and his younger brother accordingly. Crawnch joined the plumbers at a young age, and he showed a lot of promise.
5 Years Later
5 Years Later
And Beyond
Trivia
Crawnch is based on a member of the Ink Tank, Hurshie Lee.

Crawnch's fishtail is based on Hurshie's hair when it is tied back in a bun.
Hurshie's icon appears on Crawnch's hoodie in Chapter 8: Risen.

Crawnch's race is the fourth unique species to hail from Terradino after Vaxasaurians, Tyrannopedes, and Pturbosaurians.
Despite their fish-like appearance, Mulgogian biology is actually closer to an

Earth

mammal's, similar to a dolphin.