Vegeta is the home planet of the Tuffle and the new home of the Saiyans from the Ben 10 Universe.
Overview
Located in the Andromeda Galaxy, Vegeta is a peaceful and lush world teeming with life. The planet is considered a popular spot for intergalactic tourists.
Landscape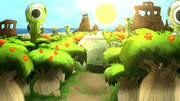 The surface of the planet is a thriving garden of life covered in mountains, jungles, and widespread oceans. The planet is teeming with dozens of thriving species. Three of which, have enough intelligence to call it home. The first being a native species called Tuffles. Another being the Saiyan race, Kryptonian's who have evolved to better suit the environment. The final being the Dragons, a species native to the neighboring planet of Zaka Chagg.
Landmarks
TBA
Residents
Trivia